If you have a goal in life, it's a good idea to find a model of success to emulate. Someone who already achieved the results you want and can help you find similar results.
If one of your goals is a more profitable portfolio, then we've got a great tool for you. Check out the Model Zacks Strong Buys & Buy screen.
You'll find Zacks Rank #1s (Strong Buys) and Zacks Rank #2s (Buys) that are in the Top 50% of the Zacks Industry Rank and have strong Zacks Style Scores.
It's a great place to start on your path toward greater profitability. Here are three names that recently made the screen and are worth watching:
Avis Budget Group CAR
You know what's not in very high demand during an unprecedented pandemic? Car rentals. Where are you going to go? Leisure travel and business travel are shut down, and even your closest friends and family are too nervous to have you around. It's a tough environment for a company like Avis Budget Group (CAR)… but it looks like the arteries of this country are finally opening up again.
As you already know, CAR is a leading vehicle rental operator with an average rental fleet of nearly 650,000 vehicles. Its operations are split into two segments: Americas (69% of 2020 revenues) and International (31%). The company has all the market segments covered with the Avis brand handling the hoity-toity upscale customers and Budget tackling the mid-tier customer. There's also a deep-value brand and, of course, Zipcar for urbanites.
It's history of acquisitions, technological enhancement and fleet expansion continued even through the pandemic. Most noteworthy at this time is CAR's drive to simplify the online interaction of customers, especially through its Avis mobile app. Such improvement will be a huge benefit even when the pandemic is gone once and for all.
Shares have surged nearly 170% over the past 12 months, including about 109% this year alone. Results have beaten the Zacks Consensus Estimate for three consecutive quarters with the next report coming on August 3.
Last time, CAR lost 46 cents per share in its first quarter, which was actually better than the Zacks Consensus Estimate by more than 80%. We were expecting a loss of more than $2! Total revenue of $1.37 billion dropped more than 21% year over year as you'd expect during this challenging period, but still beat the Zacks Consensus Estimate by nearly 11%.
The company attributed its solid results to cost discipline and fleet optimization, which drove higher utilization and reduced costs. Though a specific outlook was not given, analysts think CAR has lots of potential moving forward, as evidenced by the rise in earnings estimates over the past 60 days.
The Zacks Consensus Estimate for this year is up 12% in that time to $4.34, while next year advanced by a more modest 3.7% to $5.32. But it does suggest year-over-year improvement of 22.6%.

Image Source: Zacks Investment Research
CBRE Group CBRE
The pandemic took a heavy toll on property leasing and sales, and yet CBRE Group (CBRE) was able to report the best first-quarter performance in its history back in late April. And it has a positive Earnings ESP of more than 6% heading into its second quarter report on July 29. If the company can beat the Zacks Consensus Estimate again, it would mark six straight quarters of outperformance.
CBRE is a commercial real estate services and investment firm, offering a wide range of services to tenants, owners, lenders and investors. It has three global business segments: Advisory Services, Global Workplace Solutions and Real Estate Investments. Shares are up 100% over the past 12 months, including over 40% in this year alone.
It reported the highest top and bottom line results for a first quarter ever earlier this year. Earnings per share of 86 cents improved nearly 15% year over year and beat the Zacks Consensus Estimate by over 22%. Revenue of $5.94 billion were above our expectations at $5.75 billion.
CBRE expects full year 2021 adjusted earnings to "meaningfully surpass" that of 2019's peak level thanks to strong growth despite continued pressure on the office market.
So how has the company been able to prosper in such difficult circumstances? The same way your portfolio survives the tough times: diversification. CBRE diversified its business across four key areas: property types, business lines, geography and client types. Meanwhile, it also made smart technological investments, initiated cost-management moves and has a strong balance sheet position.
Analysts currently expect double-digit earnings growth moving forward. The Zacks Consensus Estimate for this year is now $4.04, which advanced 5.5% over the past 30 days. Earnings are expected at $4.61 for next year, which is up 6.5% over that time and suggests year-over-year improvement of more than 14%.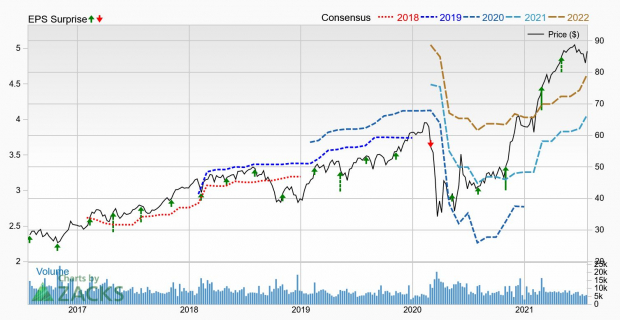 Image Source: Zacks Investment Research
United Rentals URI
You don't rent things like scissor lifts, track loaders and backhoes to do a little gardening in the backyard. These are heavy-duty tools used for big and sometimes dangerous industrial jobs, which means they haven't been in much demand for a while. But, fortunately, that's changing right now.
Take United Rentals (URI) as an example. Its key end markets have been rebounding to such an extent that the company raised its full year guidance, which is still going to be an impressive feat this earnings season. Furthermore, shares are up more than 97% over the past year, including a rise of over 38% in this year alone.
URI is the largest equipment rental company in the world with a network of 1165 rental locations, offering 4,000 classes of equipment for customers in construction, industrial, utilities, municipalities, government agencies and homeowners, among others. It's two business segments are: General Rentals (78.5% of total revenues in 2020) and Trench, Power and Fluid Solutions (21.5%).
Despite all the craziness of the last year-and-a-half, URI has still beaten the Zacks Consensus Estimate for an impressive 13 straight quarters. Therefore, it will be going for 14 in a row when it reports again next week on July 28.
Last time in its first quarter, earnings per share of $3.45 beat our expectations by 11.3%, bringing the four-quarter average surprise up to 36.1%. Total revenue of $2.06 billion was down year over year as you might expect, but only by 3.2%. Plus, it was ahead of the Zacks Consensus Estimate by 2.4%.
Most importantly, the company raised the outlook for 2021. It now expects total revenue between $9.05 billion and $9.45 billion, instead of the prior outlook at $8.625 billion to $9.025 billion. Adjusted EBITDA is now expected between $4.1 billion and $4.3 billion, rather than $3.925 billion to $4.125 billion.
Since the report, URI completed its acquisition of General Finance, a leading provider of mobile storage and modular office space. URI will update its 2021 financial outlook next week to account for this addition.
The Zacks Consensus Estimates are $21.14 for this year and $24.39 for next, which marks gains of more than 12% for each period over the past 90 days. That marks a year-over-year profit growth of more than 15%.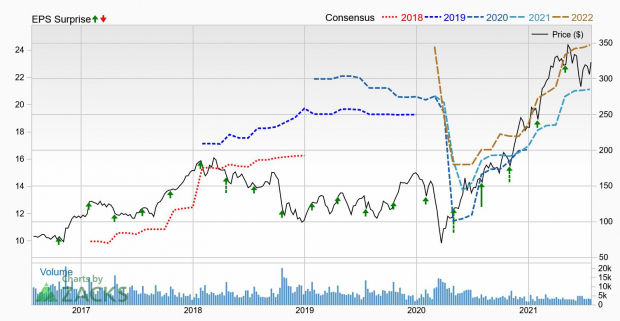 Image Source: Zacks Investment Research
 
Infrastructure Stock Boom to Sweep America
A massive push to rebuild the crumbling U.S. infrastructure will soon be underway. It's bipartisan, urgent, and inevitable. Trillions will be spent. Fortunes will be made.
The only question is "Will you get into the right stocks early when their growth potential is greatest?"
Zacks has released a Special Report to help you do just that, and today it's free. Discover 7 special companies that look to gain the most from construction and repair to roads, bridges, and buildings, plus cargo hauling and energy transformation on an almost unimaginable scale.
Download FREE: How to Profit from Trillions on Spending for Infrastructure >>
Avis Budget Group, Inc. (CAR): Free Stock Analysis Report
United Rentals, Inc. (URI): Free Stock Analysis Report
CBRE Group, Inc. (CBRE): Free Stock Analysis Report
To read this article on Zacks.com click here.
The views and opinions expressed herein are the views and opinions of the author and do not necessarily reflect those of Nasdaq, Inc.